This week's favourite website goes to the Specialists at
Geotech Soil Stabilisation
. The Team in Southampton love the look of this website and had a lot of fun putting it together page by page. The end result is fun to explore and helps explain exactly what it is 'Geotech Soil Stabilisation Solutions' can do and why they are the best option in their field.
Just to give you a brief introduction into the
Geotech
method
, and why they are different to other resurfacing options, you need to know that they use a chemical agent technology to make soil stronger and more stable so that the land can then be used for roads and buildings to be directly built on. The reason this is better than traditional methods (excavating and transporting old soil before laying and compacting new soil) is that with Geotech, there is less travel time needed for lorries, it takes less time overall, less material is needed and less harmful Carbon Dioxide is produced.
Back to the website - thanks to a clever logo and beautiful images taken and supplied by the team at Geotech themselves, it was a joy to decorate and many of the design elements, large and small, make reference to them. The arrows and soil textures in the background combined with the detailed, beautifully filtered photographs really make the panels a feature of their own and brings the pages to life while making each one individual and memorable.
It's also worth noting the custom social media icons in the top right hand corner which use a special 'style' to appear as if they rotate into colour. As the client is very active on
Social Media
and utilises everything from the more informal sites like Twitter to the business orientated ones like LinkedIn, it works well to have them all easily accessible and to ensure they stand out.
The main challenge with this website was to do justice the service that Geotech carries out. This website was built around that idea and uses everything from step by step 'story' carousels to visual graphs (created by the client) to explain to visitors of the website what it is they do. What we really wanted was to ensure that visitors to the website remember Geotech but also that they understood quickly the service being offered. This is in large part the reasoning behind the panel like layout and the number of visual aids that make memorable the understanding of everything from the process, the pros and the variations on the service they could ask for.
Geotech has actually been a long standing client of ours and has now gone through two redesigns. Let's have a look at the way the website has evolved over the years:
Original Design: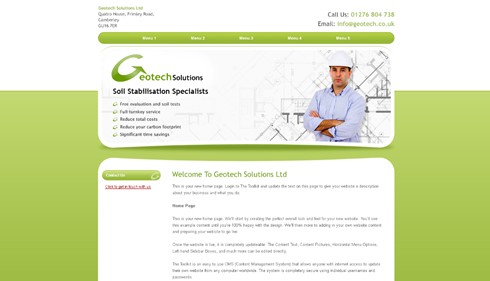 1st Redesign:
2nd Redesign:
If you need help making your website look the best it can be or just want a way to represent and explain your business to those on the web,
don't hesitate to get in touch with us
.